TUTORIAL教程
1.Welcome to the video on the 3rd study by Weissenborn. Weissenborn asks for this study to be sempre staccato, that is, always separated notes. Also he gives the instruction leggiero, which here means to tongue lightly.

1.欢迎来到维斯伯恩的第三个学习视频。维斯伯恩要求用跳音演奏这个练习,也就是总是分开的音。此外,他给出的方法是轻巧地,在这里指的是舌头轻轻地。

2.Many bassoonists move their jaws when they articulate. They chew the notes. Avoid this extra movement. Practice first with legato tonguing in front of a mirror.

2.很多巴松管演奏者在发音时会移动下巴。他们把音符嚼碎了。应该避免这种多余的动作,首先在镜子前练习舌头连奏。

Example

3.Then play with shorter notes but don't change your jaw movement.

3.然后用较短的音符练习,但不要动你的下巴。

Example

4.It is important to use flick or venting keys in this study. The study is slow enough that you can alternate between the whisper (piano key) and the flick keys. The flick keys help notes start cleanly.

4.在这个练习中使用小键是很重要的。这个练习要很慢的演奏,你可以交替使用弱音键和小键。小键帮助吹奏出干净的音符。

5.Here is an example of bad articulation, without the flick key.

5.这里是没有使用小键的一个反面的例子。
Example

6.Here is an example of clean articulation, with the flick key.

6.这里是使用小键的发音清楚的一个例子。

Example

7.Here are the note names with the flick key fingerings.

7.下面是用小键指法的音符名称。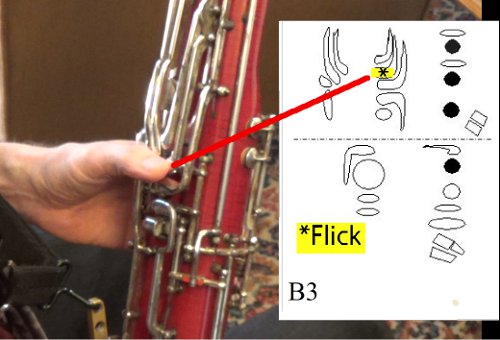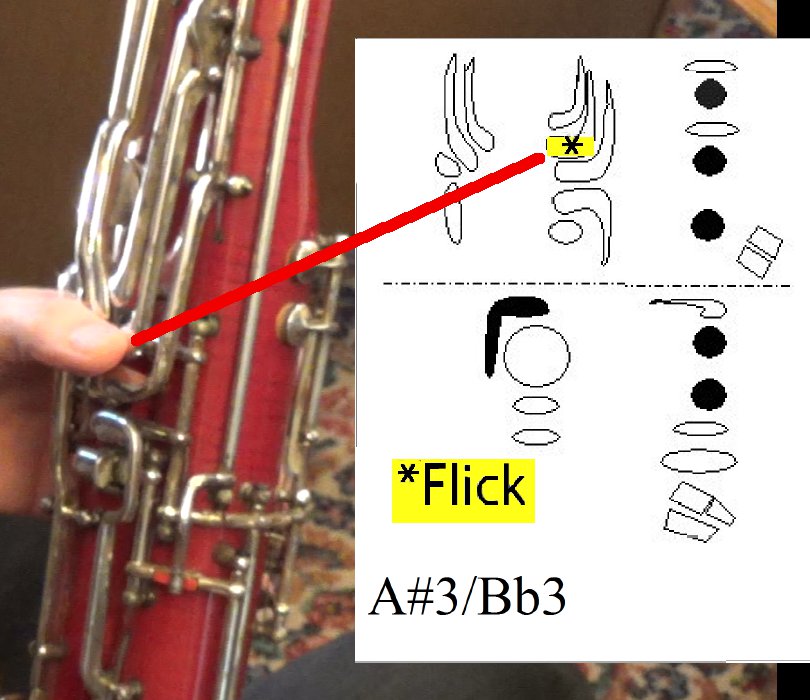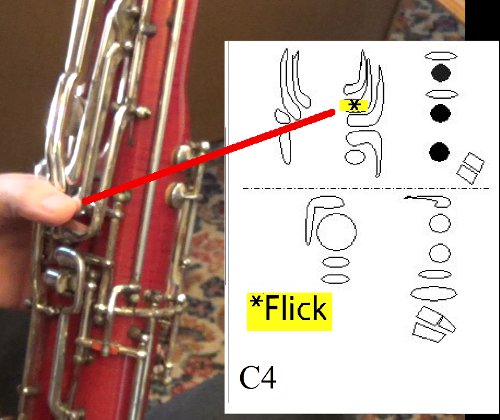 8.Take breaths in places that enhance the musical phrasing. See the video on Weissenborn study #9 for a more thorough discussion of where to breathe.

8.在加强乐段时呼吸。在维斯伯恩视频#9中有针对哪里要呼吸更深入的讨论。

9.Notice that I breathe from below, dropping the jaw for a quick breath. I don't move my whole head to breathe. Dropping the jaw is the most efficient to breathe quickly.

9.请注意,我是从下面呼吸的,放下下巴进行快速呼吸。我没有移动我的整个头去呼吸。放下下巴可以最有效的快速呼吸。

REFLECTION沉思
And the LORD God formed man of the dust of the ground, and breathed into his nostrils the breath of life; and man became a living being. (NKJV, Genesis 2:7)

耶和华神用地上的尘土造人,将生气吹在他鼻孔里,他就成了有灵的活人,名叫亚当。(和合本, 创世纪2:7)
Everything you do such as practicing, talking, walking is not only a physical activity but also a spiritual activity. Each of us is a living being, a spirit in a physical body. Wherever your body goes, your spirit goes as well. Live your life in a way that makes your spirit sing with music.

你做的每件事,比如练习,谈话,步行,不仅是体力活动,更是一种精神活动。我们每个人都是一个活生生的存在,一个存在于肉体中的灵魂。无论你的身体去哪儿,你的精神也同行。你的生活的方式,可以让你的灵魂在音乐中歌唱。