TUTORIAL教程
1. In the 3rd study I presented fingerings for flick keys. In this 4th study we will use the flick or vent keys again. There is one additional flick key, however, for D4 (re). Normally when I tongue this D (re) I don't use the flick key. However, for slurring up to D4 the flick key is needed.

1.在第三期视频中,我给出了小键的指法。在这第四期视频中,我们将再次使用小键。但是,对于D还有另外一个小键。通常,当我用舌头触摸这个D,我不使用小键。然而,如果从连音吹奏到D,小键是需要的。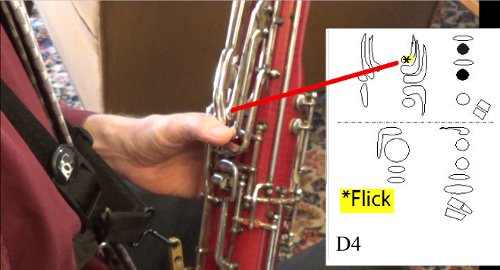 2.In order to create a smooth slur you will need to release the whisper (piano) key early. In the beginning you may find it helpful to practice the study like this:

2.为了奏出一个流畅的连音,你需要提早松开弱音键。一开始你可能会发现像这样的练习是有帮助的:

3.The slur to E4 (mi) in measure 4 is best by leaving off the first finger in the right hand.

3.在第四小结中,演奏连音到E(MI)时,右手的食指最好抬起。

4.The transition from triplets to duplets is difficult for some students. Practice this exercise to master even notes:

4.从三连音转到二连音对一些学生来说是很难的。吹奏这个练习须掌握一些注意事项:

5.The triplet entrance is further improved by subdividing in triplets in your mind  on the beat before the triplet notes.

5.在吹奏三连音之前,在心里按拍子把它们拆开,这对吹奏好三连音有很大帮助。

Example with triplet subdivision
6.The general rule is to hold the note under the fermata twice as long. Thus this quarter note should be held for about the length of a half note.

6.一般的规律是保持延长记号下的音符两倍长。因此,这个四分音符应当保持大约一个二分音符的长度。

7.The caesura indicates a pause or silence in the music. Informally we call this "railroad tracks" in English.

7.这个休止表示音乐中的暂停或沉默。通俗地说,在英语里称之为"铁轨"。

REFLECTION沉思
Then God saw everything that He had made, and indeed it was very good. (NKJV, Genesis 1:31)

神看着一切所造的都甚好。 (和合本, 创世纪1:31)
Sometimes when I play the bassoon I just enjoy the feeling of the instrument resonating in my hands. At times I even feel the sound vibrate in my body. There is such beauty that is possible with a musical instrument. It is very good! Be thankful for this wonderful and good gift.

有时,当我演奏巴松时,我只是享受乐器在我手中共鸣的感觉。偶尔我甚至觉得,声音在我的身体里震动。这种因乐器而带来的感觉非常美妙,非常棒。感谢这个美好的礼物。