Mozart's Bassoon Concerto 1. Introduction and Editions. BDP # 212. By Terry B. Ewell, Bassoon Digital Professor. Assisted by Vincent Igusa, bassoon and Catherine Renggli, piano. www.2reed.net.
Concierto para fagot Nº1 de Mozart. Introducción y ediciones. BDP #212. Por Terry B. Ewell, Profesor digital de fagot. Asistido por Vincent Igusa, fagot, y Catherine Renggli, piano. Traducido por Elena Iakovelva y Carlos Gabriel Arias Sánchez. www.2reed.net.
---
<Music: Vincent Igusa, bassoon, and Catherine Renggli, piano. Towson University Recital Hall, 20 June 2017.>
<Música: Vincent Igusa, fagot, y Catherine Renggli, piano. Salón de recitales de la universidad de Towson, 20 de junio de 2017.>
1. Welcome, I am Terry Ewell, the Bassoon Digital Professor. I am quite excited to bring this new series to you about the Mozart Bassoon Concerto.
1. Bienvenidos, soy Terry Ewell, el Profesor digital de fagot. Estoy muy entusiasmado por traerles esta nueva serie sobre el concierto para fagot de Mozart.

2. The first movement of the Mozart Bassoon Concerto is perhaps the most significant work in the repertoire for bassoonists. I have performed the Concerto many times, including with the Hong Kong Philharmonic under the direction of Maestro Jah Jah Ling.
2. El primer movimiento del concierto de Mozart para fagot es probablemente la pieza más significativa en todo el repertorio fagotístico. Yo he tocado el concierto muchas veces, entre ellas con la Filarmónica de Hong Kong bajo la dirección del maestro Jah Jah Ling.
3. The first movement of the Concerto is required for many university auditions. It is a staple of orchestral auditions as well. Last of all, the accessibility and beauty of the Concerto has made it a favorite with performers and audiences for many years.
3. El primer movimiento del concierto es requerido en muchas audiciones para ser admitido en universidades y conservatorios, así como en audiciones para orquestas. Para terminar, hay que mencionar que lo accesible y hermoso del concierto lo convirtió en un favorito entre intérpretes y audiencias hace años.
4. Thus, given the significance of the work, you should carefully research all features of the Concerto. My goal with these videos is to educate you about neglected and perhaps even unknown aspects of this prized possession in our repertoire.
4. Por lo tanto, dado lo significativo de la obra, ustedes deberían investigar exhaustivamente todos los aspectos del concierto. Mi objetivo en estos vídeos es instruirlos sobre los aspectos dejados de lado e incluso olvidados de esta preciosa posesión de nuestro repertorio.
5. There are numerous editions of the Mozart Concerto available. I own seven print editions of the work. You might be thinking, are the editions really all that different? Well, let's take a look. I have performed from the edition in Figure 1 for several decades. The version in Figure 2 was perhaps the most common edition of the Concerto in 20th century USA.
5. Hay numerosas ediciones disponibles del concierto de Mozart. Yo tengo siete ediciones impresas de la obra. Usted debe estar pensando, "¿de verdad serán estas ediciones diferentes entre sí?" Bueno, echémosles un vistazo. Yo he tocado la edición en la Figura 1 por varias décadas. La edición en la Figura 2 fue tal vez la edición más común durante el siglo XX en Estados Unidos.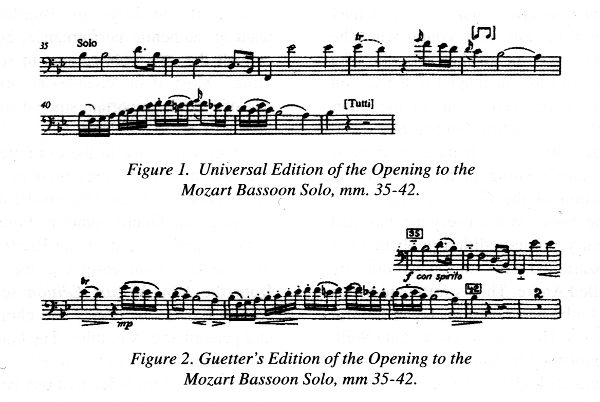 6. Notice the striking differences between the two versions. Guetter has added dynamics, crescendos and decrescendos, articulations, and even "con spirito." None of these appear in the version penned by Mozart. In Figure 1, Universal Edition, additions made by the editor are presented in parenthesis or with dashed lines. This allows the performer to accept or reject the editor's suggestions.
6. Observe las enormes diferencias entre las dos versiones. Gutter ha agregado matices, crescendos y decrescendos, indicaciones de articulación, e incluso la indicación "con spirito". Ninguno de estos figura en la versión de Mozart. En la Figura 1, de la edición Universal, los agregados hechos por el editor se presentan entre paréntesis o con líneas punteadas. Esto permite al intérprete aceptar o rechazar las sugerencias del editor.

7. Let's make another comparison in the Concerto.
7. Hagamos otra comparación en el concierto.

8. Thus, you can see that your choice of music will determine the manner in which you play and even the particular notes you perform in the concerto. The Guetter edition writes out the turn, and it appears quite different than the other versions. The turns in Examples B and C give B natural. These sound "correct" because of the many performances of the work you may have heard. However, the turn with B flat would be quite common for the performance practice in Mozart's time. The editor in version A, the Universal Edition, indicates this. Only by referring to the Universal edition or another edition more closely aligned with the original version would you know about playing a B flat here.
8. Por lo tanto, su elección de la partitura va a determinar su forma de interpretar la obra, y hasta las notas particulares que va a tocar en el concierto. La edición de Gutter escribe todo el adorno, y luce bastante diferente de otras ediciones. Los giros en los ejemplos B y C dicen Si natural. Esto puede sonar "correcto" a sus oídos debido a tantas interpretaciones de la otra que usted debe haber escuchado, en las que se usó esta edición.
Sin embargo, el adorno con Si bemol hubiera sido bastante común en la práctica interpretativa de los tiempos de Mozart. El editor en la versión A, de la edición Universal, así lo indica. Solamente refiriéndose a la edición Universal, o alguna más alineada con la versión original, sabría usted que se debe tocar un Si bemol en este lugar.

<Music: performance of mm. 50-57>
<Música: interpretación de comprases 50 a 57>

9. There are many more differences between the editions and you should consider them carefully.
9. Hay muchas diferencias más entre las ediciones y usted debería examinarlas cuidadosamente.

10. These are my recommendations for performance editions:
10. Éstas son mis recomendaciones de las ediciones para tocar:

Concerto in Bb Major K191 (Turkovic)-BSN/PN
Composer: Mozart, Wolfgang Amadeus
Publisher: Universal Edition (Austria)
Edition: 18123

Concerto in Bb Major K191 (Urtext) (Study Score)-BSN/ORCH
Composer: Mozart, Wolfgang Amadeus
Publisher: Barenreiter (Germany)
Edition: TP253

Concerto in Bb Major K191 (Urtext)-BSN/PN
Composer: Mozart, Wolfgang Amadeus
Publisher: Barenreiter (Germany)
Edition: 4868-90

Concerto in Bb Major K191 (Score & Set)-BSN/ORCH
Composer: Mozart, Wolfgang Amadeus
Publisher: Breitkopf und Haertel (Germany)
Edition: 15103set


11. Not all of the editions above are without errors. For instance, the second movement of the Universal edition of the bassoon part has missing rests in measures 1 and 2. [show figure] In all cases, I suggest you check your version of the music with the free, authoritative edition of the work.
11. No todas las ediciones que listé carecen de errores. Por ejemplo, en el segundo movimiento de la edición Universal, faltan unos silencios en los compases 1 y 2. [Mostrar figura]. En todos los casos, les sugiero que comparen su versión de la partitura con la edición de la versión original, y gratuita, de la obra.
12. Log onto the NMA publications website and type in "191" in the appropriate box. 191 is the KV number for the bassoon concerto.
12. Ingresen en el sitio de las publicaciones de NMA y escriban "191" en el espacio provisto. 191 es el número KV correspondiente al concierto de fagot.

http://dme.mozarteum.at/DME/nma/nmapub_srch.php?l=2

13. There is no excuse, there is no excuse, there is no excuse for any bassoonist to be playing the Concerto without knowledge of the best edition of the work. This edition is available without charge to anyone with access to the Internet.
13. No hay excusas, no hay excusas, no hay excusas para que ningún fagotista toque el concierto sin conocimiento de cuál es la mejor edición de la obra. Ésta edición está disponible sin cargo para cualquiera con acceso a internet.

14. Here are three articles that will further guide your study of the concerto:
14. Aquí hay tres artículos que lo guiarán aún más en su estudio del concierto:


15. I am very grateful for the assistance of my student Vincent Igusa and pianist Catherine Renggli, who perform this composition for the videos in this series. Last year, Vincent performed the first movement of the Concerto with the Baltimore Symphony Orchestra. He was a sophomore in High School at the time.
15. Estoy muy agradecido por la asistencia de mi alumno Vincent Igusa y la pianista Catherine Renggli, quienes interpretaron la obra para esta serie de videos. El año pasado, Vincent interpretó el primer movimiento del concierto con la Orquesta sinfónica de Baltimore. Estaba en su segundo año de escuela secundaria, en ese momento.

16. It is my hope that this series will awaken in you a new appreciation for the Concerto and enlighten your understanding of this wonderful composition.
16. Mi esperanza es que esta serie de videos despierte en ustedes una nueva apreciación por el concierto y los ilumine en su entendimiento de esta maravillosa composición.

<Music: Vincent Igusa, bassoon, and Catherine Renggli, piano. Towson University Recital Hall, 20 June 2017.>
<Música: Vincent Igusa, fagot, y Catherine Renggli, piano. Salón de recitales de la universidad de Towson, 20 de junio de 2017>