Mozart's Bassoon Concerto, Part 4. Ornamentation 1, Introduction and Appoggiaturas. By Terry B. Ewell, Bassoon Digital Professor. Translated by Elean Iakovleva and Carlos Gabriel Arias Sánchez. BDP #215. Vincent Igusa, bassoon, and Catherine Renggli, piano.
Concierto de Mózart, parte 4. Ornamentación 1, introducción y appoggiaturas. Por Terry B. Ewell, Profesor Digital de Fagot. Traducido por Elena Iakovleva y Carlos Gabriel Arias Sánchez. BDP #215. Vincent Igusa, fagot, y Catherine Renggli, piano.
1. I have several recordings of the Mozart Bassoon Concerto in my vinyl collection. In addition, I also own several CDs of the Concerto. Despite the time and cost of creating all of these recordings, it appears that we still don't have a recording of the work with all of Mozart's notes and with style, ornamentation, and free embellishment appropriate to the Classical period. In this video we will discuss aspects of ornamentation and free embellishment. I hope that it will open your understanding on the topic. Perhaps you will be the person in the future to present the Mozart Bassoon Concerto in its full glory.
1. Tengo varias grabaciones del concierto para fagot de Mozart en mi colección de discos de vinilo. Además, tengo varios CDs del concierto. A pesar del tiempo y costo que fueron necesarios para crear estas grabaciones, parece ser que todavía no tenemos una con todas las notas de Mozart y con estilo, ornamentación y los adornos libres apropiados para el período Clásico. En este video vamos a analizar aspectos de la ornamentación y la libertad en cuanto a los adornos. Espero que esto abra sus mentes en cuanto al tema. Tal vez sea usted la persona que en el futuro presente el concierto para fagot de Mozart en toda su gloria.
2. Part of your education should include a study of ornamentation. This is especially needed since composers from the Baroque period produced volumes of works for the bassoon. Performers who present Baroque compositions without ornamentation are equivalent to Jazz musicians who perform Jazz without improvisation. Neither is historically correct.
2. Parte de su educación debería incluir un estudio de la ornamentación. Esto es especialmente necesario ya que los compositores del período Barroco produjeron grandes volúmenes de obras para el fagot. Los intérpretes que presenten obras barrocas sin ornamentación son equivalentes a músicos que toquen Jazz sin improvisación. Ninguno de los dos sería históricamente correcto.
3. You might find helpful my video series on ornamentation
YouTube playlist: https://www.youtube.com/watch?v=HfDkjS8VWFQ&list=PL_xCoWcKyxRShO-ClM9O-30dNQ0IAVobo
2reed.net link with videos, music, and articles:
http://www.2reed.net/bdp/home.html#ornamentation
3. Tal vez le resulte de ayuda ver mi serie de videos sobre ornamentación en este enlace de Youtube:
https://www.youtube.com/watch?v=HfDkjS8VWFQ&list=PL_xCoWcKyxRShO-ClM9O-30dNQ0IAVobo
Éste es el enlace de 2reed.net con videos, partituras y artículos:
http://www.2reed.net/bdp/home.html#ornamentation
4. Concert reviews and publications in the early 1700s into Schubert's time in the 1820s and beyond indicate that vocalists regularly added free embellishments to the music, not singing exactly what was on the page. There is thus an unbroken tradition of free embellishment from the Baroque period through Mozart and to later composers in the early Romantic period.
4. Muchas críticas de conciertos y publicaciones desde comienzos del siglo XVIII hasta los tiempos de Schubert, en los 1820 e incluso más tardíos, indican que los cantantes regularmente agregaban adornos libremente a la música, de manera que no cantaban exactamente lo que estaba en la partitura. Vemos entonces, que hay una tradición de libre ornamentación que va desde el período Barroco, atravesando los tiempos de Mozart y llegando hasta el período Romántico temprano.
5. Quotation in the video: In the nineteenth century, singers varied their performances much more broadly than twenty-first century vocal practices suggest. Vogl had his own personal style of performance, but it was related to nineteenth-century vocal practices. Vogl's manner coincided with instructions for realizing ornaments and introducing free embellishments found in nineteenth-century vocal treatises. In many cases, there was not a single correct way to realize embellishments in the nineteenth century; instead, there was a range of possibilities.
Joseph R. Matson. Dissertation. "Johann Michael Vogl's alterations to Schubert's "Die schöne Müllerin." University of Iowa, Spring 2009.
5. Cita en el video: En el siglo XIX, los cantantes variaban sus interpretaciones mucho más ampliamente que lo que sugieren las prácticas vocales del siglo XXI. Vogl tenía su propio estilo personal de interpretación, pero estaba relacionado a las prácticas vocales del siglo XIX. La manera de Vogl coincidía con instrucciones para la ejecución de ornamentos e introducción libre de adornos que podemos encontrar en tratados vocales del siglo XIX. En muchos casos, no había una sola forma correcta de realizar los adornos en el siglo diecinueve; en lugar de eso, había un rango de posibilidades.
Joseph R. Matson. Disertación. "Alteraciones de Michael Vogl al "Die schone Mullerin" de Schubert". Universidad de Iowa, primavera de 2009.
6. Thus, an informed performance of the Mozart Bassoon Concerto must include ornamentation beyond that already written in the music. Here are some important publications from that time period to consider:
6. Por lo tanto, una interpretación informada del concierto para fagot de Mozart debe incluir ornamentación más allá de la ya escrita en la partitura. Aquí tienen algunas publicaciones importantes del período a tener en cuenta:
7. Quantz, Johann Joachim.
7. Quantz, Johann Joachim.
Versuch einer Anweisung die Flöte traversiere zu spielen .
http://imslp.org/wiki/Versuch_einer_Anweisung_die_Fl%C3%B6te_traversiere_

zu_spielen_(Quantz%2C_Johann_Joachim)
On playing the flute; a complete translation [from the German] with an introd. and notes by Edward R. Reilly. London Faber and Faber (1966).
Sobre la interpretación de la flauta; una traducción completa [del alemán] con una introducción y notas por Edward R. Reilly. London Faber and Faber (1966).
Bach, Carl Phillip Emanuel. Versuch über die wahre Art das Clavier zu spielen.
http://imslp.org/wiki/Versuch_%C3%BCber_die_wahre_Art_das_Clavier_zu_
spielen,_H.868,_870_(Bach,_Carl_Philipp_Emanuel)
Translation by William J. Mitchell. Essay on the True Art of Playing Keyboard Instruments, New Edition. Ernst Eulenburg Ltd, 1974.
Traducción por William J. Mitchell. Ensayo sobre el verdadero arte de tocar instrumentos de teclado, nueva edición. Ernst Eulenburg Ltd, 1974.
8. Also, of interest are these articles by Robert Levin:
Robert D. Levin. "Improvised Embellishments in Mozart's Keyboard Music." Early Music 20/2. Performing Mozart's Music III (May, 1992), pp. 221-233.
Robert D. Levin. "Performance Prerogatives in Schubert." Early Music, 25/4 (1 November 1997), pp.723–727.
8. Además, pueden interesarles estos artículos por Robert Levin:
Robert D. Levin. "Adornos improvisados en la música para teclado de Mozart". Early Music, 20/2. Interpretando la música de Mozart III (Mayode 1992), pág. 221-233-

Robert D. Levin. "Prerrogativas de interpretación en Schubert". Early Music, 25/4 (1 de noviembre de 1997), pag. 723-727.

9. We should give special thanks to John Miller and his bassoon symposium for supplying us with an article by eminent scholar Frederick Neumann on works for bassoon. If you don't have time to read the texts I just recommended, you need to read the transcription by David Ross on a lecture given by Dr. Neumann.
Ross, David J. "Ornamentation in the Bassoon Music of Vivaldi and Mozart," Part II. The Double Reed 9/3 (Winter 1986).
9. Deberíamos agradecerle especialmente a John Miller y su simposio de fagot por proveernos un artículo por el eminente estudioso Frederick Neumann sobre obras para el fagot. Si usted no tiene tiempo de leer los textos que acabo de recomendar, debería leer la transcripción de David Ross de una conferencia dada por el Dr. Neumann.
Ross, David J. "Ornamentación en la música para fagot de Vivaldi y Mozart", Parte II. The Double Reed 9/3 (invierno de 1986).

10. This article provides a quick summary of ornamentation in Mozart's music for bassoon. An online version of the text is available on archive.org.
10. Este artículo es un rápido resumen de la ornamentación en la música de Mozart para fagot. Una versión digital del texto está disponible en archive.org:
https://web.archive.org/web/20150312042218/http://www.idrs.org:80/
publications/controlled/DR/DR9.3/DR9.3.Ross.html
11. The figures, however, are missing in this free version so you need to gain access to the article either through joining the International Double Reed Society or finding a copy of the journal.
11. Sin embargo, faltan los gráficos en esta versión gratuita por lo que tendría que acceder al artículo suscribiéndose a la International Double Reed Society o conseguir una copia de la revista.
12. Neumann in his lecture makes an important observation that Italy rather than northern Germany provides influence for ornamentation in Mozart's work. Mozart's father made three extended trips to Italy with the young Wolfgang between 1769 and 1773. Wolfgang's love of opera also is further evidence of the influence of Italian composers. It is not surprising then, that W. A. Mozart's music is characterized by vocal qualities, including choices of ornamentation.
12. Neumann en su conferencia hace una importante observación diciendo que en la obra de Mozart Italia tiene una mayor influencia que Alemania del norte en cuanto a ornamentación. El padre de Mozart hizo tres extensos viajes a Italia con el joven Wolfgang entre 1769 y 1773. El amor de Wolfgang por la ópera es otra evidencia de la influencia que recibió de los compositores italianos. No es sorprendente entonces, que la música de W. A. Mozart está caracterizada por cualidades vocales, incluidas las elecciones de ornamentación.
13. The Neumann article includes many examples of ornaments in the Concerto. Time doesn't allow for me to discuss them all, so I will just present one example in this video and one in the next. Please note that Neumann gives these as recommendations, not rules.
13. El artículo de Neumann incluye muchos ejemplos de ornamentos en el concierto. El tiempo no me permite analizarlos todos, por lo que sólo voy a presentar un ejemplo en este video y uno en el próximo. Por favor tenga en cuenta que Neumann los propone como recomendaciones, no como reglas.
14. The most important ornament in Baroque, Classical, and even Romantic music is the appoggiatura. This ornament creates one of the most powerful expressive gestures in Common Practice music and often is the goal of musical phrasing. If you have time to study just one ornament, this is the one!
14. El ornament más importante en la música barroca, clásica e inclusive romántica, es la appoggiatura. Este ornamento crea uno de los gestos expresivos más poderosos en la práctica común musical y es a menudo el objetivo de la frase musical. Si usted sólo tiene tiempo de estudiar un ornamento, debe ser éste!

15. Quantz thinks so highly of the appoggiatura that it is listed first among all ornaments in his treatise.
15. Quantz tiene en tan alta estima a la appoggiatura, que la pone primera en la lista de ornamentos en su tratado.
16. The word appoggiatura comes from the Italian appoggiare, to lean. Appoggiaturas are metrically stressed dissonances. Often these appear on downbeats. These notes have stress and weight.
16. La palabra appoggiatura viene del Italiano appoggiare, "apoyarse". Las appoggiaturas son disonancias ubicadas sobre tiempos fuertes. A menudo aparecen sobre el primer tiempo del compás. Estas notas tienen énfasis y peso.
17. Let's examine the opening of the Second movement bassoon solo. In the Urtext edition we find three grace notes, which here are placed in red circles with the main notes.
17. Examinemos el comienzo del solo de fagot en el segundo movimiento. En la edición Urtext, encontramos tres notas que adornan las notas principales, que aquí vemos en círculos rojos.

18. In figure 24, Neuman provides the Urtext edition on the top and his notation on the bottom. Although the notation on the top appears similar, the end result below is quite different.
18. En la figura 24, Neuman muestra la edición Urtext arriba y la suya abajo. A pesar de que parecen bastante similares, el resultado final es bastante diferente.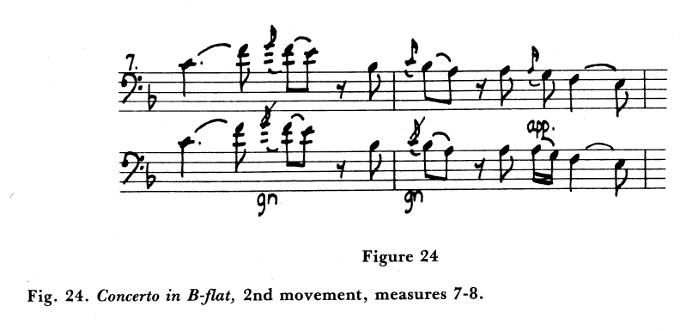 19. The first two grace notes are played before the beats. In the last example, however, the grace note is played on the beat. The only way to understand why this is the case is to examine the harmony. Note that the bassoonist needs to be aware of the notes in other instruments not just in the solo bassoon part! Without an understanding of the harmony, there cannot be an appropriate choice.
19. Las primeras dos notas de adorno se tocan antes del tiempo. En el último ejemplo, son embargo, la nota de adorno se toca sobre el tiempo. La única forma de entender el por qué, es examinar la armonía. Tengamos en cuenta que el fagotista debe estar al tanto de las notas de los otros instrumentos no sólo en la parte de su solo. Sin un entendimiento de la armonía, no puede haber una decisión apropiada.
20. Here is the Urtext edition with markings for harmony and appoggiaturas. The first grace note is a chord member. G4 is part of a C major chord. Thus, this note is not a dissonance and cannot be an appoggiatura. Appoggiaturas are always dissonances. Because the first grace note is not dissonant, it must be played before the beat. The second grace note is similar to the first, it is also not a dissonance. This grace note must be before the beat. The appoggiatura is on the Bb3 and is already written into the music. The last grace note, however, is a dissonance and should thus be played as an appoggiatura on the beat. It is a stressed note that is played with a 16th note value.
20. Aquí tenemos la edición Urtext con anotaciones sobre armonía y appoggiaturas. La primera nota de adorno es parte del acorde. El Sol es parte de un acorde de Do mayor. Por lo tanto, esta nota no es una disonancia y no puede ser una appoggiatira. Las appoggiaturas son siempre disonancias. Porque la primera nota de adorno no es disonante, debe ser tocada antes del pulso. La segunda nota de adorno es similar a la primera, tampoco es una disonancia. Esta también debe ser tocada antes del pulso. La appoggiatura está en el Si b y ya está escrita dentro de la frase. La última nota de adorno, sin embargo, es una disonancia y debe por lo tanto ser tocada como una appoggiatura, sobre el pulso. Es una nota acentuada, que se toca con el valor de una semicorchea.
21. Notice that the appoggiaturas are the goals of gestures in the solo. The notes prior to the appoggiatura's musically lead to them. Although the last grace note in print appears to be less important than the surrounding notes, it should in fact be emphasized by the performer with significant weight.
In the next video we will examine appoggiaturas with trills.
21. Note que las appoggiaturas son las llegadas de los gestos musicales en el solo. Las notas previas a las appoggiaturas conducen musicalmente hacia ellas. Aunque la última nota de adorno escrita parece menos importante que las que la rodean, debe de hecho ser enfatizada por el intérprete con un peso significativo.

En el próximo video examinaremos appoggiaturas con trinos.

<Music: Vincent Igusa, bassoon, and Catherine Renggli, piano. Towson University Recital Hall, 20 June 2017.>
<Música: Vincent Igusa, fagot, y Catherine Renggli, piano. Salón de recitales de la universidad de Towson, 20 de junio de 2017.>