---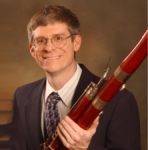 Terry B. Ewell
former Chairperson, Professor, Department of Music, Towson University
Former President, International Double Reed Society
(B. M. University of Washington; Bassoon Performance, magna cum lauda; M. A. University of Washington, Music Theory; Ph.D. University of Washington, Music Theory)
Terry Ewell is former Chairperson of the Department of Music and bassoon professor at Towson University. In his 30 plus years as a professional musician he has received recognition as a performer, teacher, scholar, and administrator.
For seven years he served as Principal Bassoon of the Hong Kong Philharmonic under music director Kenneth Schermerhorn and visiting directors Gerard Schwartz, Kenneth Jean, Maxim Shostakovich, and Jahja Ling. Later he was Principal Bassoon of the Wheeling Symphony and Acting Principal Bassoon of the West Virginia Symphony. He has performed with the Pittsburgh Symphony Orchestra, the Baltimore Symphony Orchestra, and the Baltimore Chamber Orchestra. As a soloist he has performed with the Seattle Symphony Orchestra, the Hong Kong Philharmonic, the IDRS 2004 Conference Orchestra (Melbourne, Australia), and with several regional orchestras in the state of Washington. His performances as a chamber musician have been heard in Germany, Hong Kong, and throughout the United States. He has recorded for Musical Heritage Society, Hong Kong Records, Pickwick Records, Cambria Records, and Naxos.
Dr. Ewell has gained a reputation for his innovative approaches to bassoon teaching. He is a pioneer in the application of MIDI and MP3 files to bassoon instruction. His articles on various aspects of bassoon pedagogy have received international attention with publication in American, Dutch, and British journals. He has taught at the Hong Kong Conservatory of Music, the Chinese University of Hong Kong, Pacific Lutheran University (Washington State), West Virginia University, and Towson University. He is a faculty member at the MasterWorks Music Festival and has given master classes or lectures at Trinity College in Greenwich, England; the University of Colorado; and at several International Double Reed Society conferences.
His writings appear in over a dozen journals principally The Double Reed, the International Double Reed Journal, and Scrapes. In addition he is the author and editor of several publications at the International Double Reed Society World Wide Web Site: the Bassoon-Family Fingering Companion, the IDRS Reed Project, the IDRS MIDI site, IDRS Who's Who, IDRS Podcast, and the IDRS Conference Program Archive.
How Dr. Ewell's life changed (web page)
How Dr. Ewell made a choice (video)
---
DORIS DeLOACH received the B.M. degree from Florida State University, the M.M.E. degree from George Peabody College, and the D.M. degree in oboe performance from Florida State University. Before joining the Baylor University faculty in 1972, she played oboe and English horn with the Nashville Symphony Orchestra for three seasons. She has taught instrumental music in the public schools of Montgomery County, Maryland, and has performed with the Atlanta Symphony, the Chattanooga Symphony, the Chattanooga Opera Orchestra, the San Angelo Symphony Orchestra, the Aspen Festival Chamber Orchestra, the American Institute of Musical Studies Orchestra in Graz, Austria, the American Wind Symphony Orchestra and is principal oboist of the Waco Symphony Orchestra and a founding member of the Baylor Woodwind Quintet. Her major teachers were Nancy Fowler and Ray Still and she has done additional study with John de Lancie. In 1971, she received the Ernst von Dohnanyi Citation for Excellence in Performance from Florida State University and in 1991 she was named the Outstanding Creative Artist at Baylor University. In 2001, she received the Florida State University School of Music Faculty Citation for distinguished achievement in teaching and performance. She is on the faculty of the summer MasterWorks Festival at Winona Lake, Indiana. An active clinician and soloist, she has performed at International Double Reed Society Conventions in Columbus, Tallahassee, Baton Rouge, Bloomington, Madison, Evanston, Frankfurt, Morgantown and Austin.
Dr. DeLoach's decision to follow Christ
---
B. Mus. Curtis Institute of Music, MM Florida State University. DMA currently in progress at Florida State University. Studied with Richard Woodhams, Elaine Douvas, John Mack, Joseph Robinson, and Eric Ohlsson. From 2001-2004 Mr. Messich held the Aspen Academy Conducting Orchestra Fellowship where he served as principal oboist under Maestro David Zinman. Mr. Messich is currently a member and rotating principal oboist of the Iris Chamber Symphony under the direction of Maestro Michael Stern in Memphis, Tenn. In high demand, Mr. Messich freelances throughout the state of Florida and plays with Miami City Ballet, Boca Raton Symphonia, Jacksonville Symphony, and the Tallahassee Symphony Orchestra.
---
Mrs. Poling studied under the late Sara Watkins, receiving her M.M. in Oboe Performance from the Peabody Institute in 1993 (Phi Kappa Lambda). She did her undergraduate work at Indiana University of Pennsylvania, receiving B.S. degrees (summa cum laude) in both Music Education (1990) and Music Perfornance (1991). While in western Pennsylvania, she performed with the Johnstown and Altoona Symphony Orchestras, and was both a finalist (1990) and winner (1991) of the Frank Gorell competition. She continues to serve her alma mater as a member of the oft-recorded Keystone Winds, for which she is frequently called upon by the prolific contemporary composer and conductor Jack Stamp to perform as a soloist in debuting new works.
MaryAnn Poling first came into contact with the Greater Baltimore Youth Concert Orchestra, "GBYCO," through her orchestra students, many of whom are currently members of the GBCYO and GBYO. A eight-year veteran of the Harford County Public Schools, Mrs. Poling led the orchestra program in her elementary and middle schools to four-fold growth during her tenure. She maintains an extensive private oboe studio, with students ranging in age from eleven to fifty-seven, and has served on the faculties of the Peabody Preparatory, Goucher College, Georgetown University and Essex Community College.
An active freelance musician in the Baltimore-Washington area, Mrs. Poling has played with such area ensembles as the Goucher Chamber Orchestra, Annapolis Symphony, the Annapolis Opera, the Hood College Orchestra, and the Maryland Lyric Opera among others. She has performed in 14 countries, most notably for Juan Carlo Menotti's Spoleto Festival, both in South Carolina and in Spoleto, Italy.
Mrs. Poling lives in Reisterstown with her husband, Jason, and their daughters, Kara and Alicia.
---
Cynthia Watson
Cynthia Watson is Principal Oboe of the Youngstown Symphony Orchestra, rotating Principal Oboe with the IRIS Orchestra in Memphis, Tennessee and a member of the Solaris.  She joined the faculty of the University of Akron in 2003. Ms. Watson has also served as principal oboe of the Albany Symphony, the Glimmerglass Opera Orchestra, and as a member the Canton Symphony. From 1991-1994 she was a regular member of the Mainly Mozart Festival in San Diego. She has performed with the Cleveland Orchestra, the Cleveland Opera, the Rochester Philharmonic and the Virginia Opera Orchestra. Ms. Watson received a Bachelor of Music degree from the Eastman School of Music, where she studied with Richard Killmer. She continued her studies with Ronald Roseman at Yale, where she earned a Master's degree. Her playing has been described as "creating a lasting impression with exquisite singing tone" (Times Union, Albany, N.Y.), "an evening of superlative work" and "[a performance] with soulful brilliance" (Schenectady Gazette). She has recorded on Telarc with the Akron Symphony, on Albany Records with the Albany Symphony Orchestra and CBS Masterworks with Wynton Marsalis and the Eastman Wind Ensemble.